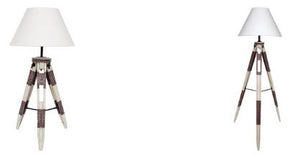 Light Up Your Living Room with Batela
Finding lighting that matches without being too plain can be a daunting task. These coastal inspired table and floor lamps from Batela are bursting with character and bundles of style to lighten up your living room effortlessly.
Create a co-ordinated focal point in the living room with the Tripod Table and Floor Lamps. The bases of the lamps are made up of three metal legs with a distressed striped finish for a nautical shipwrecked effect. Both lamps come with a white lampshade to suit all interior schemes from the obvious seaside style, to colonial and even upcycled!
For a modern interior setting, the Wooden Table Lamp and Floor Lamp offer mood lighting made from natural materials for a rustic approach.
 
Because the cords are adjustable on both lamps, you can hang the lights at the height of your choice with ease.; perfect for those who love to relax on the sofa with a good book!
 
These lamps look great when they are positioned near your sofa or dining table for when you need more intimate lighting.
 
 
Prices:
Tripod Lamp; Height 80cm x Width 40cm x Depth 40cm; £95.00
Tripod Lamp – Tall; Height 150cm x Width 60cm x Depth 60cm; £170.00
Wooden Table Lamp; Height 55cm x Width 25cm x Depth 50cm; £69.00
Wooden Floor Lamp; Height 170cm x Width 45cm x Depth 30cm; £99.00
---